Creating Community One Production at a Time
---
Upcoming
Peppermint Bear and The Taming of the Shoe
Book and Lyrics – Michael Snider
Music and Additional Lyrics – Kurt Misar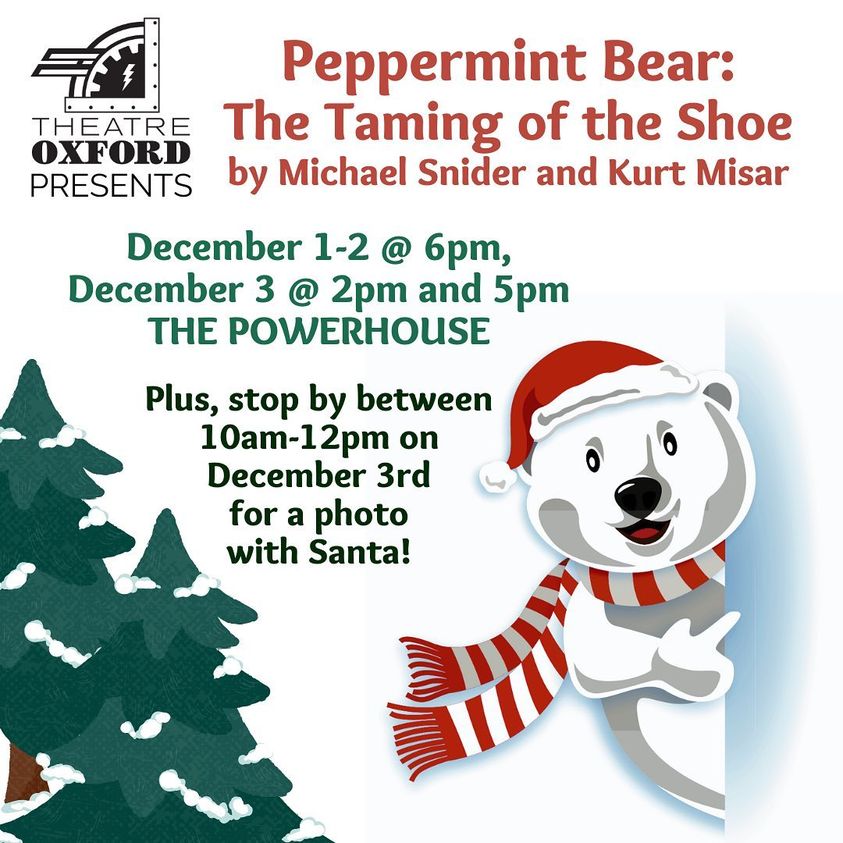 Enjoy the holiday season with this family-friendly musical. Arrive early to get into the holiday spirit with the Elves' ensemble.
We are also proud to be touring this show to Taylor and Harmontown. We'll be on the outdoor stage in Taylor on December 8th at 6 PM. Bring a blanket and chair to 4 Town Square Lane! We'll be in Harmontown on December 10th at 11am at the Community Center, 34 CR 504.
---
News
Success! Another Side of Tennessee Williams
Theatre Oxford's opening production was a success thanks to great audiences, generous sponsors, and marvelous volunteers. The Dog Enchanted by the Divine View, The Case of the Crushed Petunias, The Pretty Trap, and Mister Paradise revealed a more hopeful and humorous side of Williams. We also paid tribute to the late Colby Kullman, introduced Colby's Corner (book exchange) as well and Coffee with Colby. Thanks to all who participated onstage, backstage, offstage, and in the audience!
Hoka Days Fringe Festival

Theatre Oxford premiered two short plays during YAC's Hoka Days at the Powerhouse. Playwrights LaToya Faulk and Charlie Finesilver attended, as did a good, and receptive crowd! Congrats to all who made the evening of community and artistry a success!

Theatre Oxford featured on MPB

Heartbreak Henry: The Show Must Go On, a documentary by Michael Fagans, will air on MPB on Sunday, August 7 at 3 pm; Tuesday, August 9 at 2 pm; Friday, August 12 at 7:30 pm. The film features Theatre Oxford's production of The Heartbreak Henry by David Sheffield.

Great Membership Kickoff!

Thanks to all for making our Membership Kickoff Party a success! Our membership drive continues, so you can still join us! See picture gallery here!
---