Thanks for making our Membership Kickoff a success! View the photo gallery!
What does it mean to be a member of Theatre Oxford?
Members support live theatre in our community. As a member, you can be as involved as you wish. We have many volunteer opportunities on stage, behind the scenes, and on committees. However, some members simply want to support us and attend the productions. Your membership does not lock you into anything, but it does open doors of opportunity if you wish to be involved. When you join, your membership will be valid for one season/year, which starts July 1 and runs through June 30.
What are the different types of memberships?
We have several circles of memberships based on the support level you choose. With all memberships you will:
Save up to 30% on most performances with discounted tickets.
Receive invitations to advance showings and premiere parties.
Be eligible to vote on board nominations and issues at quarterly open meetings.
Have the opportunity to shape the vision and mission of the organization through engagement.
Gain bragging rights for your activism.
Circle Levels and Benefits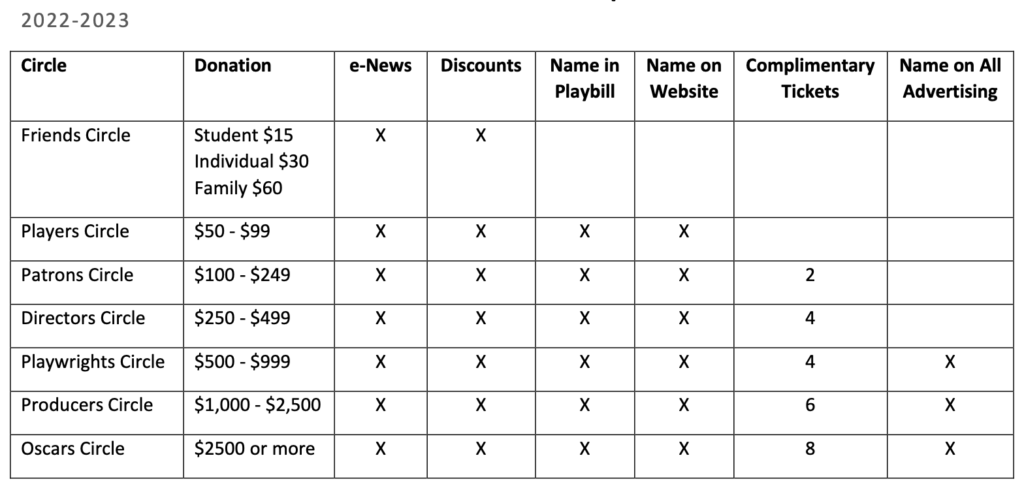 How do I join?
1. Submit a Membership Form. The form will ask for your contact information, membership level, and interests.
2. Send your donation. Theatre Oxford is a 501(c)3 nonprofit, which means your donations are tax deductible as allowed by law. You can do this by:
Preferred method: Transferring funds via PayPal (link within the form or below).
Sending a check to Theatre Oxford at P. O. Box 1321, Oxford, MS 38655.
Taking a check or cash in an envelope to the front office of the Powerhouse; label envelope "c/o Theatre Oxford".
3. Maintain your membership by renewing your donation each year.
I submitted my form and payment; what now?
Once we've received your donation, you'll get a membership number, which you can use to enjoy the benefits that come with your membership.